Empty Business - Jacksonville
On the night of Friday, February 8th, the OPS Team set out for an investigation at a private location that was once a business in the Jacksonville area. This outing was unique, however, because we had some guests along with us. As well as having 6 team members being present, we also were accompanied by 2 students from Sylacauga who were part of a "Job Shadowing" program. We were very honored that they decided to choose us for their program, and were pleased to have them along.
.
There are various reports of this particular location being used for satanic rituals many years ago. We spoke to many people who had seen, with their own eyes, a large pentagram that used to mark the floor and a massive painting of a devil-like figure that once covered one of the walls. These markings have long since been covered up or painted over, but some people claim that "something" was left behind. Throughout the years, there have been reports of voices and strange sounds being heard, and possible shadow figures being seen.
.
The team began setting up at the location at around 8:15 PM. We placed 4 infrared cameras within the building, all of them linked to our monitoring station. 1 was placed on the 1st floor, 1 on the 2nd floor, and 2 on the 3rd floor. 4 digital audio recorders were also placed at various spots, and 3 members were equiped with handheld infrared video cameras. With everything in place, we began our investigation shortly after 9:00 PM.
During the night, several of our members, as well as the students, had some strange personal experiences.
.
Early in the investigation, while doing EVP work with a couple of team members on the 1st floor, one of the students said that he kept getting the feeling that he was being watched. He kept described it as an eery feeling. They had an audio recorder with them, and during playback we noticed something strange. During the time that the student was getting the strange feeling, it sounds as though there may be an unidentified voice on the recording. Or, was it the sound of something more rational? (a link to this audio file can be found below)
.
Later, Jason and Dewey were sitting upstairs on the 3rd floor. They were conducting EVP work, attempting to get some type of response on an audio recorder. After asking several questions, they then began asking for the possible "spirit" to move things within the room. There were many chairs placed on hardwood floor, so they asked for it to move one of the chairs... and immediately they heard what sounded like a chair sliding across the floor. This sound was captured on audio, and we noticed another strange sound after the sliding noise. Was this a female voice? (a link to this audio file can be found below)
.
On another occassion, Jason and Dewey were walking on the 2nd floor when they heard what sounded like someone getting up out of a chair and sliding it. The sound came from a nearby room. Upon entering the room, however, they could find nothing to explain the noise. Interestingly, later in the night Tom and Lance heard noises coming from a room on the 2nd floor as well. Again, those sounds could not be explained. The sounds that Tom and Lance heard were caught on an audio recorder. (a link to this audio file can be found below)
.
At one point during the investigation, one of the students was given an EMF meter so that he could learn how to use it. A few minutes later, he approached Lance saying that he had gotten a strange EMF reading in a hallway on the 3rd floor. Lance went with the student back to that particular spot to attempt to find a reason for the reading, and he took an audio recorder with him. While searching, Lance explained to the student that any quick movements while holding the EMF meter could produce false readings. They couldn't find a source for the reading, nor could they reproduce it. However, while listening back to the audio recorder that Lance took with him, we discovered a strange sound that could possibly be an unidentified voice. (a link to this audio file can be found below)
.
The only visual anomaly noticed was something odd that was seen by 3 different members at 3 different times during the night, and they all occured at the same spot. While sitting at the monitoring station on the 2nd floor, Lance, Tom, and Trey (each at seperate times) all saw what appeared to be shadow movement on the stairs. No one spoke about the "shadow" until the last person mentioned seeing something. At that point all 3 members realized that they had all seen the same thing, There were no cameras pointed in that direction, so we have no evidence of these occurances.
After an eventful night, the investigation concluded at around 2:00 AM.
.
.
Below you will find 4 audio recordings captured on the night of this investigation along with pictures of the areas where they happened.
Below you will see the room where we recorded an unidentified voice during an EVP session. You will hear the voice after one of our group say "I keep getting that feeling". This voice was not heard at the time. click here to play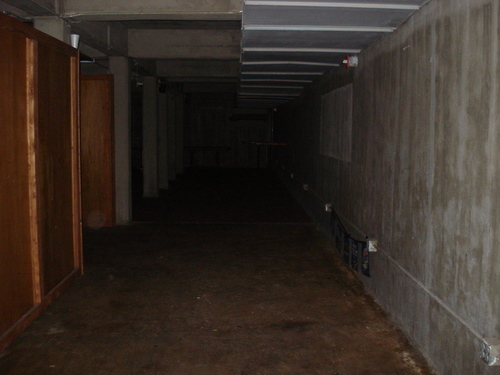 .
.
Below you will see the large room on the 2nd floor where sounds were heard a couple of times this night. We left an audio recorder running while the room was empty, and this is what we got. click here to play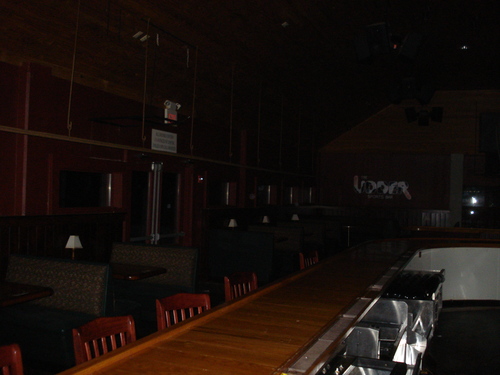 .
.
Below you will see the hallway on the 3rd floor where this audio file was recorded. One of the students with us this night got a hit on an EMF meter while walking thru the hallway. While trying to explain the possible source of the reading to him, we captured this possible voice. You will hear one of our group members say "ok let's pretend like we're not doing anything" and then you will hear another person say a couple of short words in the background followed by the whispered voice. This voice was not heard by anyone present at the time. click here to play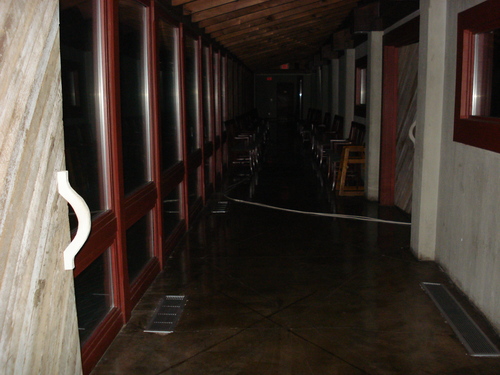 .
.
One of the most interesting EVP's we have recorded to date came from the hallway pictured above. 2 of our group members were asking for a chair to be moved during an EVP session. Something in the building was happy to help them with this as you will hear in this audio. Below you will see the room where the sound of something moving was heard by them at the time, but the strange voice that followed the movement was not heard until the file was played a few minutes later. You will hear one of our group say "Move a chair". This will be followed by a loud sound of something moving on it's own and then the voice. click here to play